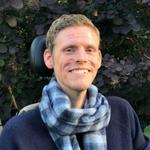 Updated by Mikkel Settnes
Dreamdata Reveal, is designed to equip businesses with a comprehensive understanding of their customer engagement. Powered by the Dreamdata Platform, Reveal collects and combines data from various sources to provide an unparalleled level of insight into your potential and existing customer engagements.
With data being generated from multiple platforms, determining which companies are actively engaging with you and at what stage of the funnel they are, can pose significant challenges. This is where Dreamdata Reveal shines - it seamlessly identifies high-engagement companies, whether they are new prospects or already a part of your sales pipeline.
Which companies are engaging with you across different platforms? Are the companies in your CRM? And where in the funnel are the companies that show high engagement?

Dreamdata Reveal provide you this detailed overview and helps you easily identify companies showing high engagement
Dreamdata Reveal de-anonymize your website traffic linking anonymous visitors to companies.

This allows Dreamdata Reveal to identify companies visiting your website without people signing up or otherwise identifying themselves.
Dreamdata Reveal collects all engagement in one place, so you can easily see which companies are browsing your website, engaging with your LinkedIn ads, and reading your G2 reviews, providing you a thorough understanding of who is currently interacting with your brand.
This can help you identify your most valuable prospects, reach out to them at the right time, and increase your lead generation and sales.
Want to know if a company browsed your website, interacted with your LinkedIn ads, and read your G2 reviews?

With Dreamdata Reveal doing the heavy lifting, this level of insight is at your fingertips. Never again miss out on a potential customer showing high engagement.
Dreamdata Reveal automatically employs an intelligent Engagement Score mechanism for each company based on the activity of the company within the last 30 days. The engagement score collects all engagement and intent signals, allowing you to single out highly engaged companies across various platforms, using a single, intuitive metric.
A variety of signals are used to calculate the engagement score, including de-anonymized website traffic, LinkedIn ad engagement, G2 views, conversions, sales activities, offline activities etc. This comprehensive approach ensures that you get the most accurate and actionable insights possible.
You can use the engagement score to prioritize your outreach efforts and focus on the companies that are most likely to be interested in what you have to offer.
Furthermore, the trend analysis of the engagement score can be used to quickly locate companies increasing their engagement with you.
Read more about the engagement score here.
Dreamdata Reveal also integrates seamlessly with your CRM, allowing quick identification of companies already in your database and their respective account owners. Additionally, it interfaces with the Dreamdata Customer Journey tool, enabling you to access a complete customer journey with just a click!
What can Dreamdata Reveal help me with?
Dreamdata Reveal empowers you to easily identify companies demonstrating high engagement, whether they are new leads or already in your sales pipeline. It provides a superior level of understanding and control over your customer engagement landscape.
The advanced filters facilitate a wide array of highly customizable analysis options to help you:
Identify high-value prospects and new opportunities
Prioritize and evaluate ABM efforts
Prioritize your outreach efforts
Make sure you are reaching the right companies
Locate highly engaged accounts in your sales funnel
Depending on the goal of the analysis you can use the advanced filters to fully customize the engagement report
Identify new opportunities
The NEW tag identifies companies having activity in the last 7 with no activity in the previous 7 days
Identify companies with high engagement that are
Already in your CRM or not in your CRM - never miss an opportunity just because they are not in your CRM
In your CRM but does not have an account owner - find highly engaged accounts not being worked on
Sales representatives can also use the account owner filter to locate their accounts to prioritize outreach

Use filters like industry, company country, number of employees, annual revenue etc. to identify the right companies showing high engagement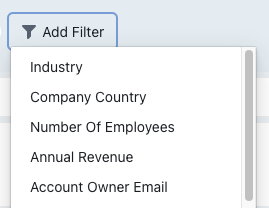 Connect engaged companies with your pipeline and funnel
Find highly engaged accounts that are already in a specific place in the funnel - which Sales Qualified Lead (SQL) are engaging the most with you?
Filter out existing customers or look specifically at existing customers to find candidates for upsell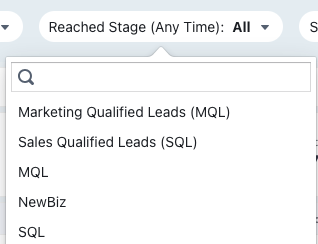 Find companies that have not reached a specific place in your funnel - which companies with high engagement have not yet been a Marketing Qualified Lead (MQL)

Find high engaged companies performing specific actions
Identify companies visiting your pricing page within the last 30 days and showing high engagement across all platforms - which companies seeing your pricing page are also engaging with you on LinkedIn or checking out your reviews
Companies performing a specific action - find the companies attending a webinar, subscribing to your newsletter etc. and have a high engagement with you across platforms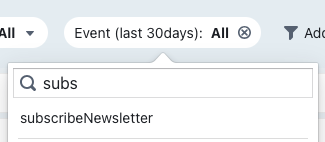 If running specific campaigns, use the campaign and/or source filter to find companies interacting with that campaign within the last 30 days

Companies with high engagement that interacted with a specific channel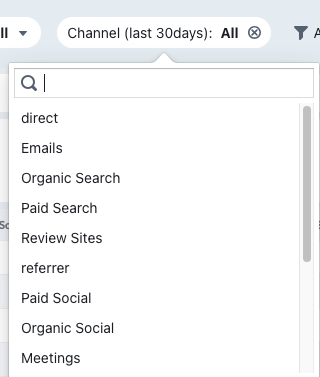 How does it work?
Reveal uses activity data in the Dreamdata Platform from the last 30 days to create a searchable list of companies that have engaged with you on one or more different platforms.
Firmographics: Dreamdata Reveal shows relevant firmographics information. This combines data from your CRM, any enrichment providers enabled through integrations and Dreamdata's own enrichment, to give you as complete a record as possible.
Use this to identify companies matching you ICP.
Combine with CRM: Dreamdata Reveal also combines the engagement data with your CRM, allowing you to easily identify if a company is already in your CRM and if it has an account owner.
Dreamdata Reveal uses the different signals described below to calculate the engagement score for each company engaging with you.
De-anonymized Website Traffic
If you are using Dreamdata's tracking script or Segment, Dreamdata will automatically use the user's IP address to look up their city, country, and company. This enables Dreamdata to identify anonymous visitors and link them to the appropriate company. This feature allows you to find out who visits your website without people signing up or otherwise identifying themselves.
Dreamdata Reveal applies de-anonymization to determine if a company is browsing your website, even if you have not identified the actual person.
LinkedIn Engagement
As official Linkedin Marketing Partners, Dreamdata enables you to collect company engagement data for your LinkedIn Ads. Dreamdata Reveal uses the ad engagement data as a separate signal, and shows you if companies are engaging with your ads on LinkedIn.
This requires the LinkedIn integration to be enabled.
G2 Page Views
Dreamdata Reveal will include anonymous visits by companies to your G2 page.
This requires the G2 integration to be enabled
Conversions
Touchpoints setup as conversions within the Dreamdata Platform are used as a separate engagement signal ie. companies having conversions within the last 30 days will have a higher engagement score.
General Activity
General activity collected through the Dreamdata Platform is also used when considering engagement in Dreamdata Reveal. This can be things like meetings, sales calls or offline touchpoints brought into the Dreamdata Platform.
Active Contacts
Finally, the number of active contacts within the last 30 days are included. This helps you determine if you already know the emails of people at that company.
What do I need to do to make it work?
Dreamdata Reveal only requires website tracking data, but the more sources enabled the more detailed picture Dreamdata Reveal will give you.
To take advantage of the de-anonymization feature the website tracking needs to be setup using the Dreamdata tracking script or Segment.
A CRM integration is not required, but enabling it will allow you to see information like if companies are in your CRM already and if they have an account owner